I want to look nice and professional.
I already have a "costume" for while I'm there. I'll either look like I'm some sort of zombie, or people will see the painting I have my idea from. In my story one of the characters has the left side of her face under her eye ripped away. I am going to see if Mark can make me look like that. I will be creating a painting of that scene.
Or I'll just try and find a really nice gothy, but professional looking outfit. something to really make me stand out.
I also want to make a nice sign that says my company name and web address.
so much to do, and I have bunches of ideas for paintings as well.
Well there is a very local Horror Sci-fi convention going on Sep 29th, I will be selling there. I just have to donate a door prize and I'm paid for. Now I just have to get some prints sold so I can afford the stuff I need to sell at a con. I have a table to use, now I just need bags and backer boards. I also have some nice albums I picked up really really cheap to display things.
I am slowly crawling back to the face of the earth. Depression swallowed me. I did nothing but play the sims 3 and sleep. The sims kept me from thinking. Mark has been without a job for nearly a month. plus lots of other things, like dealing with life after my gastric bypass and such. But I'm alive and starting to kick. I did an art piece the other day. First one in months. PLan to do another real soon. I started going to the gym yesterday. Mandy and I will be swimming and using the gym equiptment. Yesterday I just did the treadmil. I am unsure on how to use the others.
Not much to say right now. so I will just leave you with this progress pic of me.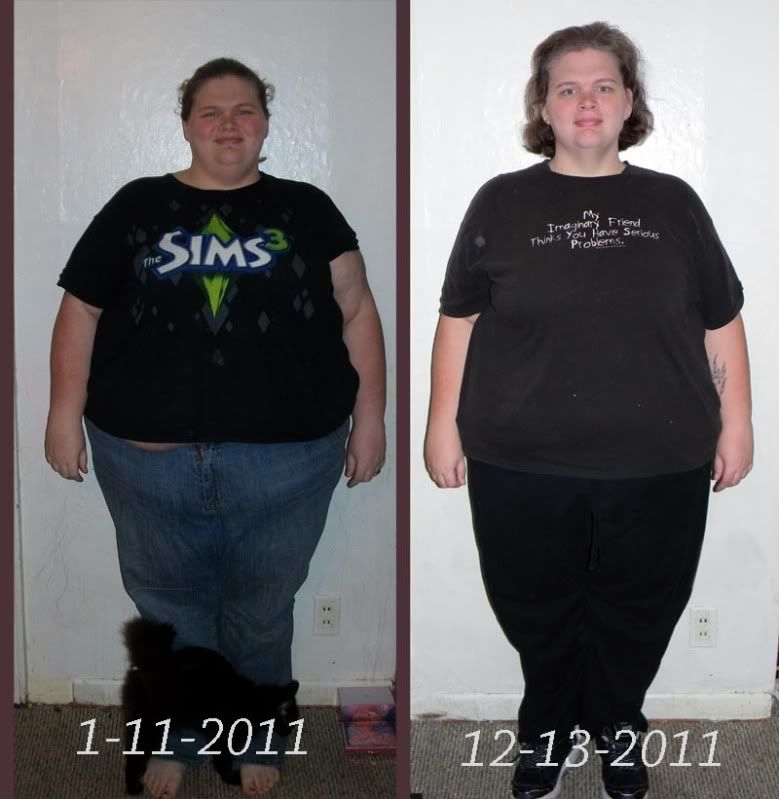 Anyone still reading this?
Well i'm still here. not much has changed. Ben sort of getting my vitamins down. they dont like to stay down though. I'm getting a swim pass for my b-day. I am so happy to be getting back to swimming. I'm going to buy one for Mandy as well so she can come with me. I want to start walking as well but not sure if I can do both since I have to do them in the evenings. I need to quit being afraid of my treadmil. I can get on it but I'm always thinking I'm going to fall.